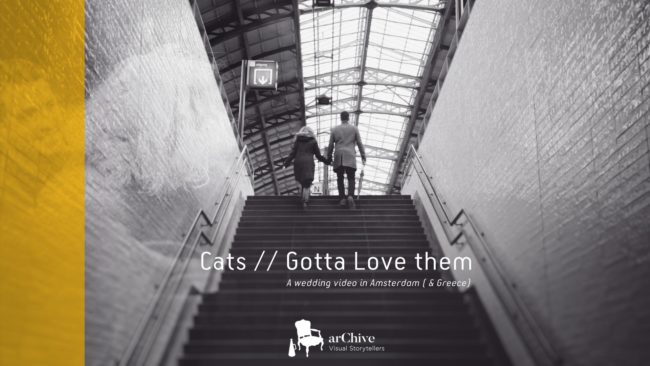 The Cat's | Cinematic Video Clip
Destination wedding cinematography by arChive
Highlight Clip
This past winter started of with our round trip around Europe, visiting favorite couples, our new friends.
Our trip to Amsterdam. Days to remember. Invited by our Cats for the official infamous arChive album presentation ritual. We shared time and most of all emotions. The wedding, now a warm and sweet memory. We were there to revive all the important, the unseen and the forgotten. Their reactions moved us, as they discovered them selves through our images. Right there and then, we decided this was not going to end here. So we let our imagination race to the next connecting point, already starting to observe and capture precious moments of their everyday life. This is because a wedding should not last a day, but a lifetime. Suddenly Amsterdam became our scenery, the perfect backdrop for a new twist of the plot.
Cinematic Clip
Wedding Cinematography's way of cheating
As in our wedding photography, so is our wedding cinematography, guided from our passion to interpret moments in a unique way, and reveal connections unseen . We do not direct life, but we discover the story behind the story, there, waiting to be told. And there's always more,  as long as  your heart remains open,  to feel and to  embrace. For our Cats, it was all about the fun, the joy, the laughters and the romance, that filled their wedding days in Symi. It is all about the Love that fills their life in Amsterdam. In everything they do and share.
So… Watch and enjoy our cinematic glimpse, become an everyday fairytale. As is your own. The one you hold precious.
With love
Angela & George
arChive – Your Visual Storytellers
Images from the heart for those few some that were meant to be!
See more of our cinematography here and our wedding photography here.
If you like what you see, get in touch info@rchive.gr. We'll travel the world for you!