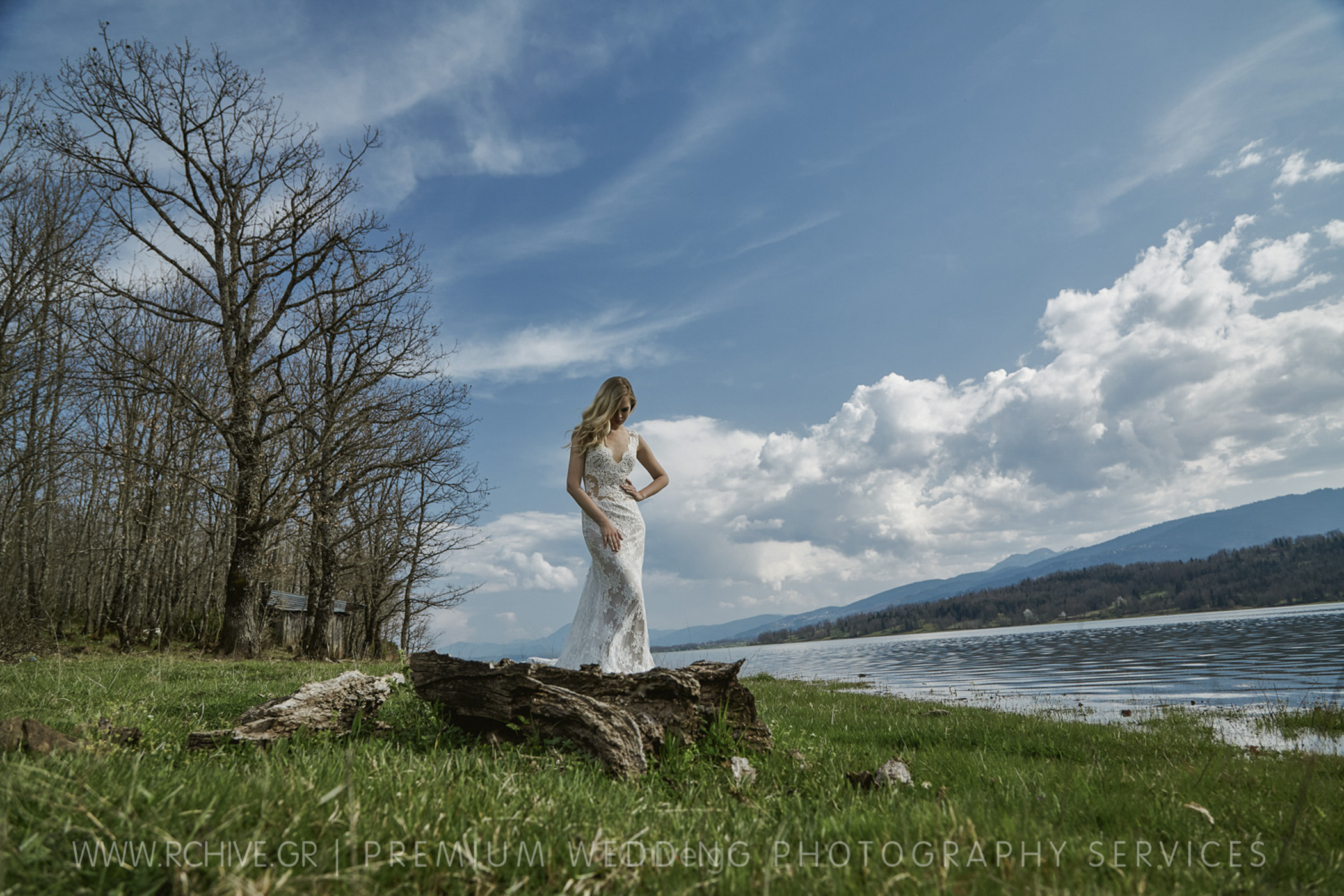 Wedding Dress Editorial – Mairi Mparola
Suspended in time, designed by man under this endless Godly nature – in a composition of blues and greens. Passive and intriguing. Changing moods with every touch of light, carrying us away in its mystery. Trees standing still, as if to let the breeze compose a symphony.
Having ended one of our Vice Versa Hotel Photography projects in Karpenissi, we decided to take a break. It had often been in our plans, but we somehow never managed. This time it was going to happen The road around the lakes perimeter, a montage of beautiful images. The scenery was breathtaking, as the lake surrounded by high mountains, spread itself as far as your eyes could see.
The result of an idea, and the magic help of mother nature this astonishing scenery was created. Lake Plastira, a man-made marvel in Central Greece. A discreet retreat, with romantic hideaways and a magic mood, cant think of a more beautiful destination to organize your wedding, leisure or pleasure. Beautiful stone guest houses with a lake view, equipped with all modern comforts to accomodate the most demanding. guests. Our personal experience at the Pandion Hotel Resort was amazing. An exceptional hospitality and high quality service.
Right there and then, We had already decided on the concept of our next bridal photo shoot. Irrevocably and confirmed. The perfect background for a stylish wedding dress. Laces and ruffles blending into this amazing scenery, passive but intense, ever so intriguing. It took one message, three snapshots and a phone call to the right receiver. A bridal styled shoot was already on its way.
The reeds sway gently; the trees are still.
In view of a cloudless sky,
all feathered against the autumn chill,
the quiet ducks glide by.
The lake is calm a little more;
the ferns stretch, waiting, on the shore;
for a while, the world exists
as a mystery in grey and white,
'til the triumph of the morning light
over the thinning mist.
From our Editorial for Mairi Mparola Bridal Collection 2016
Photography by rChive.gr
Hair and Make up Artist George Maraskas
Model Olga Datsenko