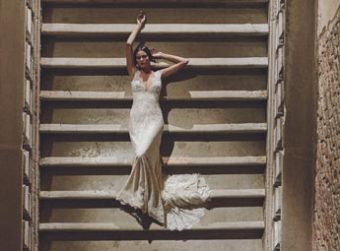 Elopement Photographer Venice
 Editorial by arChive Visual Storytellers in We_Crociferi
First of all, this was an amazing year for us. Travelling around the globe for unforgettable weddings and Editorials. So after right after our Chicago trip, Venice was next. Being a wedding photographer in Venice is just beyond description!
Why I Love Venice

"Venice is the consummate magician. It makes marble palaces vanish into silent fogs. Labyrinthine calli (streets) disappear at the whim of moody tides, and can even turn the most pedestrian of people into fantastical, masked creatures. Just like its world-famous Carnevale, Venice thrives on mystery and awe. From the secret passageways that riddle Gothic Palazzo Ducale, to the esoteric powers of the Basilica of Santa Maria della Salute to the inexplicable radiance of Titian's Assunta altarpiece. After countless sojourns, I am yet to tire of the place. Some spells are simply too hard to break." By Cristian Bonetto, Writer
We came to Venice a few months ago, for a wedding editorial photoshoot. An amazing destination, since it never fails to make you fall in love with the magic… in its essence. And she is a natural. You can see, you can almost feel and you can smell. It's in the air. Venice is breathing, and you are mesmerized. We photographed at The Grand Canal, reflecting the glories of the Venetian architecture lining its limitless banks. At the end of  Venice's signature waterway, Palazzo Ducale and Basilica di San Marco added our shots double exclamation marks. Only until we saw what was hiding in the narrow back streets. No other place could be more becoming to the elegant Bridal Collection "Air" by the talented designer Mairi Mparola.
We_Crociferi // A one of a kind hostel in Venice
It only took us a site visit to discover the ultimate match to our concept. We Crociferi, Located in Canareggio, a district in the core of Venice, where we experienced a genuinely unique atmosphere, just a few minutes away from Fondamente Nuove. In this little square, we found a hidden gem, the old Oratory of the Crociferi. Built in the 12th century, and served as a chapel. Paintings of the 15th century by Jacopo Palma tell a vivid story of this amazing place. We stayed at the We Crociferi and had the opportunity to photograph a big part of our destination wedding editorial around its premises. 
Enjoy.
Concept and Photography by arChive Visual Storytellers
Bridal Collection Mairi Mparola
Makeup Artist George Marascas