Our couples wedding photography reviews, is the best way to share their experience with you.
Anthi & Giannis, Athens
Woooow! This was our expression when we first saw our wedding photos!
Angela and George, you are truly amazing and creative professionals and we could not be more happy for having you next to us during the most special day of our life. From the first moment we met you, you made us feel really comfortable, just like good friends do. The work you showed us during our first meeting, instantly dazzled us and it was only our wish from that moment, that our wedding could be captured in such an amazing and beautiful way.
Well guess what??? You made us feel completely mesmerized when we first saw the result. Every time we look to our wedding video and pictures, our hearts beat so fast just as if we are experiencing those same emotions for the first time again. We would like to thank you once again from the bottom of our heart for being close to us and capturing all the emotion of our wedding day in the most spectacular way! We love every single photo and you who became our valuable wedding storyteller friends.You are impeccable in everything you do!!!
J & A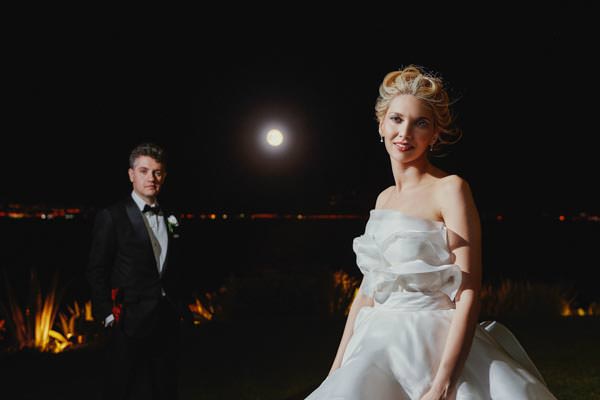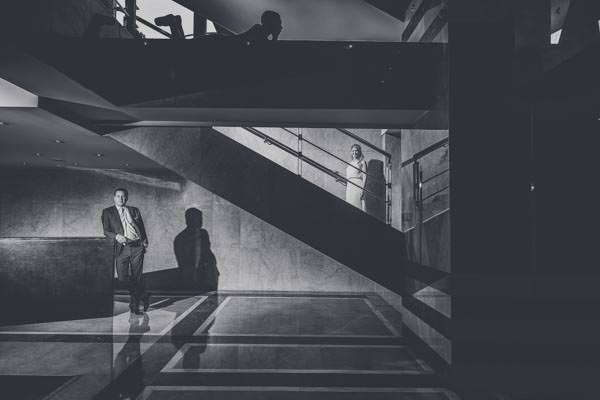 Abby & Dimitrios, Athens
"What a pleasure it was to work with Angela and Giorgos! arChive's professionalism and high quality work is evident as soon as you step foot in their impressive studio. They took the time to get to know us as a couple and incorporated our personalities into the final product. They went the extra mile to make sure we had a variety of beautiful photos that truly captured the essence of our relationship. The album layout and presentation of our wedding showcased the work of true visual artists! Thank you Angela and George! "
Maria & Arnaud
"We knew since the very beginning that our wedding will be engraved on our memory and heart. What we didn't know is that this sweet souvenir will be also reproduced in the most touching way in a unique photo album and video that tells our true story.
Full of emotions and fulfillment. arChive's work provides a wonderful way to revive every single moment and make even other people who weren't present dive into our wedding journey… And it's not only about the impeccable deliverables but also about capturing every feeling, fear, enthusiasm and passion…
From precious family moments to kitesurfing and climbing on the white rocks! And all that by being discreet, creative and punctual. Angela & George are not only encompassing the very essence of professionalism but they are also great people with a very warm heart. They deserve every success and above all, your trust!
Chapeau, les gars!! Lots & lots, M&A"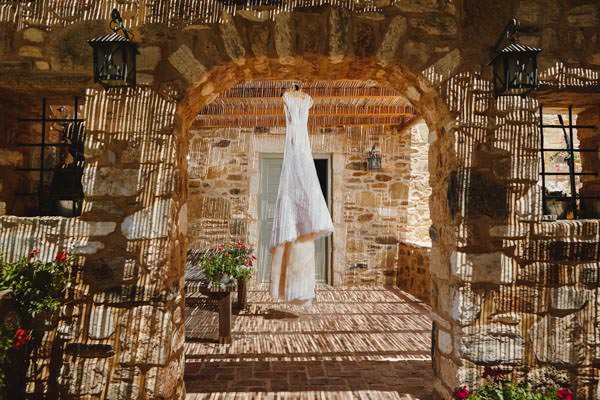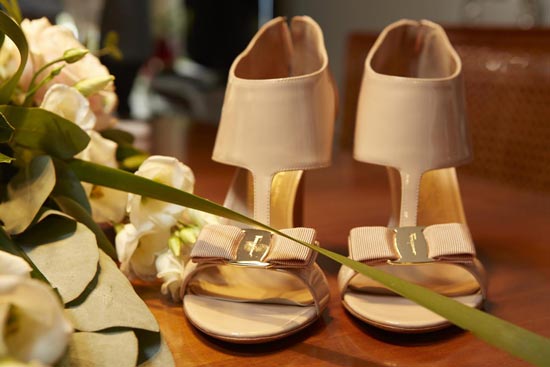 Maria & Spyros, Athens
We wish to warmly thank you for having  managed to capture the most beautiful moment of our life through time.  Apart from the profound professionalism in your work, what really touched us, is that by discretely asking and listening about our lives, you managed to highlight our inner world,  especially Maria's, capturing not only the delicate shades of her beauty, but also her deepest joy in fulfilling her dreams.
Thanking you once more, we would like to point out that your greatest quality, a very rare one in your field, is that you  devotedly respect  our innermost wishes and desires, to safe keep these precious moments in our memories forever. With love, Spiros & Maria
Katerina & JB, Rhodes
"We have no words to describe the fantastic job Angela and George put together for our wedding!
Since the moment we met them almost 8 months prior to our wedding, we instantly felt super confident and comfortable having them as our photographers for our special event! They really personalized everything according to our style, what we like individually and our personality! They build a fantastic story. The result was more than extraordinary and cannot have enough of the pictures and video they did for us.
They are super professional, always responsive, creative and more than anything they are 2 lovely people! We never felt photo shooting was something we had to do; we had so much fun with them as if it was a game! Cannot recommend them enough! Angela and George thank you once again for such a great collaboration and friendship! Looking forward to many more in the future!
Love, Katerina & JB"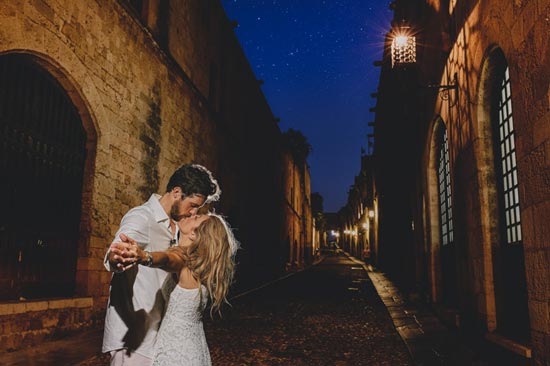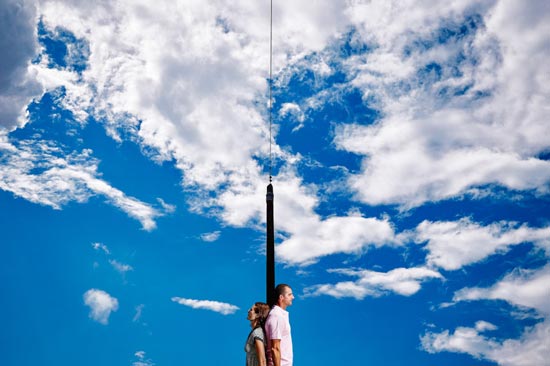 Evangelia & Isidoros, Syros
I can't remember what our life was visually like in the pre-arChive Storytellers' era…
If you want to get married, you go to a church… If you wish to re-live the moment and keep tasting those unimaginatively and totally consuming feelings, I say you go to arChive Visual Storytellers! Their technique, their perceptive eye, their love, passion and narrative, will accompany us for ever!
"What matters in life is not what happens to you but what you remember and how you remember it" Gabriel Garcia Marquez Angela and George, a "thank you", a hug, a tear, could not possibly capture our feelings of gratitude for what you have generously given us. May you always be well and keep offering people your priceless gift…
With much love, Vangel + Isidor
Afroditi & Giuseppe, Milos
It was love at first sight! We knew the moment we met Angela and Giorgos that they were the ones. Two great individuals, absolute professionals with amazing talent and passion but even more important very human, full of emotions that inspired us immediately.
We had found our wedding storytellers! We trusted them, they became "our people" in this unique life experience. They "followed" us everywhere, super discreet and at the same time super present, sharing our enthusiasm, joy, even our tears of happiness. Our photographs speak for themselves, equal to thousands of words, emotions, colors and wonderful memories that will stay with us in the years to come.
Thank you both for everything!!!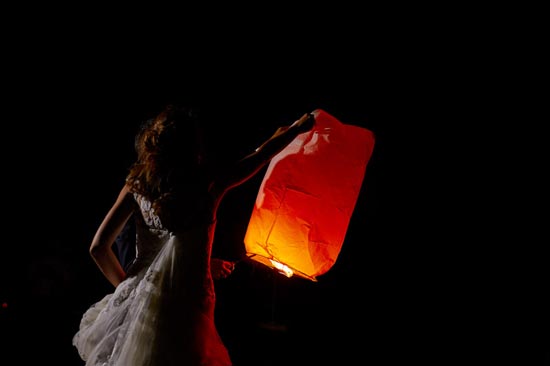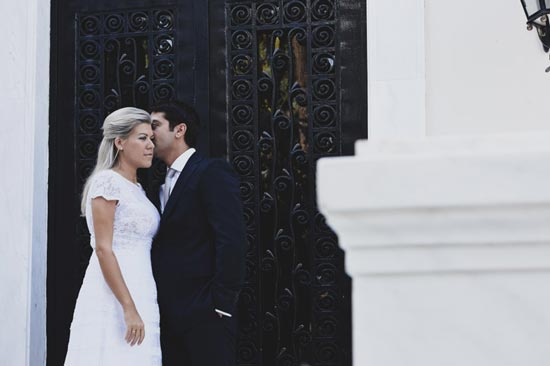 Georgina & Petros, Athens
"We had decided early on in our wedding preparations that no matter how "big" the wedding was going to be, it had to be at the same time intimate and before we met Angela and George we knew what we didn't want our wedding photography to be like…
But, from the moment we first met it was friendship at first sight,.. we clicked! arChive (aka Angela and George) became our friends cared for us through out the process and made our special day even more special with the way they told our story!! We will always be grateful for the great job you did for us and find hard… to choose which photos to print! ALL would be a good choice!! "
Natalia & Apostolos, Hydra
I was super excited to work with Angela and George! we were preparing wedding ourselves (from abroad), there were so many things to decide on, while for photography we were absolutely relaxed – as Angela and George were not just asking us what to do, but advising what can be done, offering options.
It is the 1st time we used professional photographers, and we were very happy with our choice. during the wedding and party before wedding they were always close to the action and were always looking for important moments that create memories, and somehow they managed to be everywhere! and when we saw photos we got even more happy!!! i must say that i had tears when they showed presentation movie, it reminded me of the wedding weekend and how nice it was…
I definitely recommend to have Angela and George to create a story of your important event!"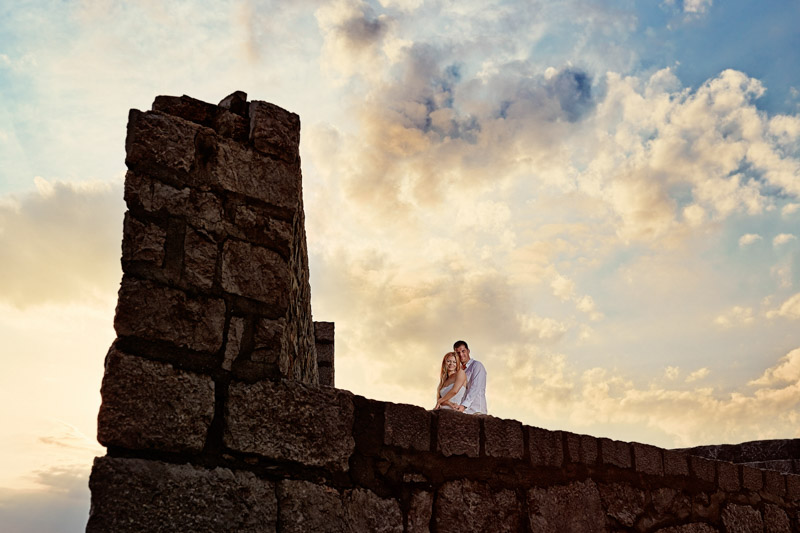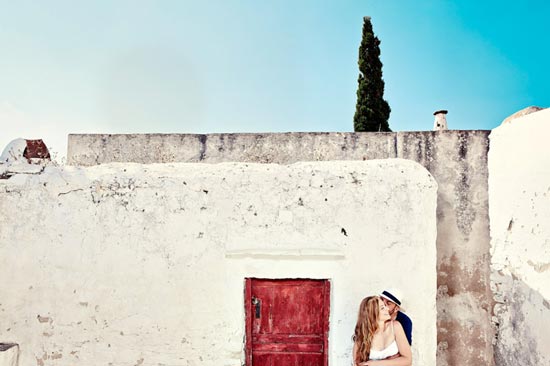 Ioanna & Fanis, Sifnos
"Giorgos and Angela are moment hunters. It's very simple and self explanatory, as they will 'kill' to grasp that tiny amazing small moment that it's so powerful and you never even noticed, and your wedding day it's over, but they noticed and it's there captured for you for ever!
They are the best choice you can ever make, as they are not ordinary photographers. I am afraid I have no words to express how grateful and blessed we are that we accidentally found them and they accepted to become our storytellers for our special day. In few words, they go above and beyond expectations on everything – visually, conceptually, professionally – they are thee with you, without you knowing, they will bring out your best self, your emotions, your authentic thoughts on film.
They are magicians, capturing the milliseconds of your most hidden moments during your wedding days, make sure you get to meet them and know them and connect with them before making any other choice.
Thank you arChive, we love you deeply. "
Maria & PL, Sifnos
"Words cannot describe how grateful my husband and I are to have found Angela and Giorgos.
Recommended by our amazing wedding planner, we embarked upon a unique journey with the arChive team, starting with he warmth of our first meeting all the way to the smiles and cries of happiness when we saw the final result during a fun-filled presentation at their awesome studio in Athens.
The quality of their photos – if you can call them that, to us they are more like snapshots of heaven – is simply incomparable to anything we have ever seen. Choose arChive photography if you want the most amazing, innovative, unique, fun, honest and absolutely beautiful photos. Choose arChive if you want photographers who are really going to get under your skin and create a completely tailor-made experience that you're surely going to remember for ever (we're sure we will!).
Thank you, thank you, thank you, again Angela and Giorgos for everything!!!"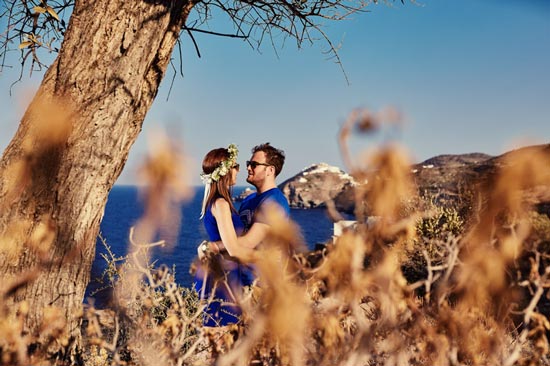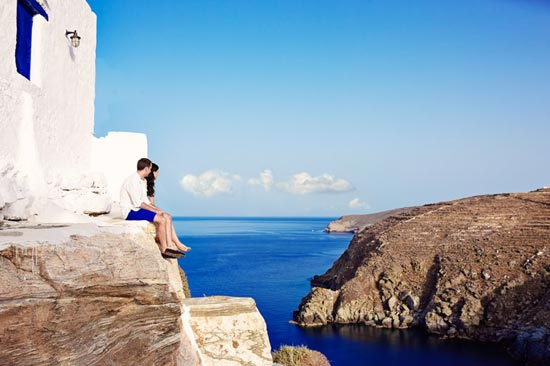 Kostas & Sanem, Sifnos
"We loved working with Angela and George. And more importantly we loved their work :)
From the moment we met, they were very professional and friendly, open to suggestions and requests. They took the time to get to know us and our story so they can reflect it in their work. Our wedding was on an island and we had a whole long weekend to spend with friends and family. As we agreed on a day-before photo session, Angela & George were with us for 4 days over our wedding weekend. Even though it wasn't a part of the agreed service, they attended family dinners, stopped by when we were on the beach with our friends, always discreet, but capturing day-to-day, beautiful moments of our guests and family. They really cared and didn't want to miss a thing. So much so, that they were with us till 3am during our wedding party. All our friends and family loved them.
When it was time to present their work to us, they hosted us kindly at their studio and took us through the slideshow, which really made it personal. The pictures are beautiful and the layout they chose for the album is just stunning. They had prepared a surprise video for us at the request of our parents and it is the best souvenir we could possibly imagine. Angela & George really went beyond for us and we really loved everything they shared with us. You spend a lot of time and effort preparing for your wedding and dreaming of it for a year. And then it goes by in a flash and you are left with the memories. We are really lucky that arChive's beautiful and comprehensive work is there to remind us of this best time of our lives.
Thank you Angela, thank you George!"
Alex & Despoina, Athens
"On the run… Suggestions, counter-suggestions, demands, suspense, strain, objections, fits of rage, explosions, exasperations, weariness – all there for this notorious wedding day. The truth is we cannot recall much. We couldn't even enjoy this day as much as we would like to.
What remained, in the end, is the wedding gown, the suit and the photographs. The clothes have already been condemned to a life sentence in the closet. On the other hand, the photos spread and expand as would a virus, leaving everyone with some kind of quirk in the mouth. Whoever saw the photos realized the mistake made in their own wedding. It is not only a matter of quality that intimidates the work of other artists in the field, but also the creativity and imagination that arises from this opportunity called wedding and all that is eventually imprinted in the material delivered.
The ceremony, the party and the styled day after photoshoot, with photos that are immured in frames and decorate furniture and mantlepieces, is something everyone has access to.
Our photographers have immortalized the whole timeline of our preparations. That is those candid and very real moments before the official massacre of the freedom of two people. Many more extras as a separate concept were prepared for us by the arChive team, highlighting our personalities. That we shall not reveal. And we were surprised. The arChive team did not deliver us with material to be seen in the future with farsighted glasses, but images from our short personal period in time. This special period that everyone will look back on, to revive memories passed.
In conclusion, they are excellent professionals, and they have excellent personalities."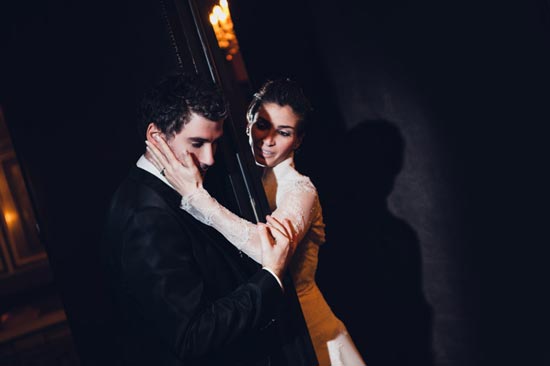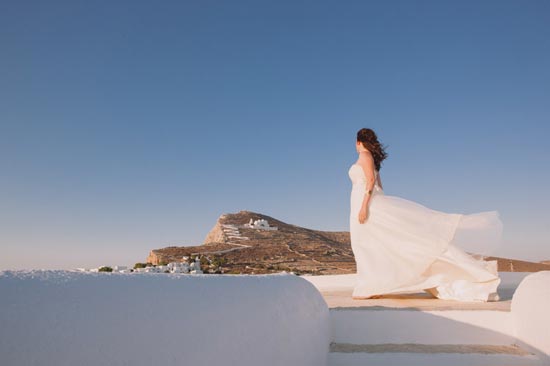 Neoklis & Virginia, Folegandros
"What you usually see in wedding photos is people dressed in their Sunday bests, the bride and groom in church, happy friends and relatives. We wanted something more, but could not pinpoint what this would be. It was a very sentimentally intense moment when we saw the photos created by George and Angela.
Their lenses had captured every  emotion under the wildest scenery of Folegandros at the most unexpected moments. All adequately linked  together in a concept conceived and pulled through by them. It is by all means the case where one image counts for 1000 words! "
Nick & Valmina,  Sifnos
We've been trying very hard and for many days to find the right words to describe the feelings we felt during those days, and in the result, we received from Angela and George. Finding the right photographers to capture our special day wasn't an easy task.
We spoke and met with many photographers, but we were not satisfied with anything we saw. The only thing we knew was that we wanted something special, something more than a photograph, something completely natural and unique, something that we could not find anywhere! In the midst of millions of errands and stress and when we were starting to get desperate, we met the arChive guys (and we have to thank our wedding planner, My Best Wishes Events, for that). And the rest is history. What remains from these moments is photographs.
And arChive managed to give us not just great photographs but an array of our own short stories. Each photograph is unique and constitutes a small piece of our own fairy tale. This is the fairy tale that we would like to remember and tell after many years when memories start to fade away. So, this fairy tale will stay alive because of Angela and George. What should you expect from the arChive team? Well, utmost professionalism and a result that surmounts any expectation.
What the arChive team delivers is a form of art. They are your true personal storytellers that will tell your fairy tale in their own amazing way which you will simply never forget."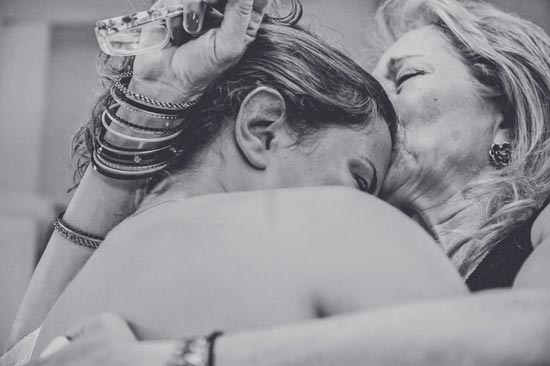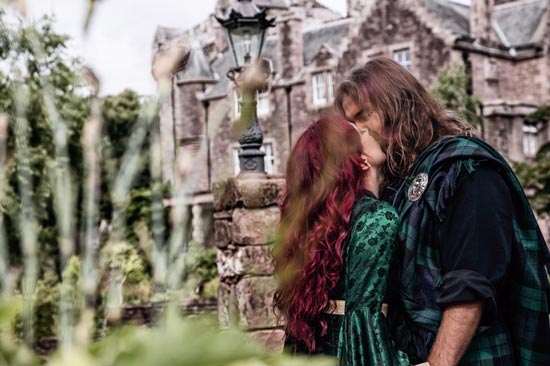 Stratos & Rania, Scotland
The truth be told we went through  a lot of research.. I being a perfectionist and "difficult", the wedding set in a medieval concept in one of the best castles in Scotland, everythiing was taken care of in every detail.
The photographs HAD to be perfect! Google search was set on fire. Nothing could stand for what we had in mind. Up until the day when the coordinator for our wedding, announced in a tone that allowed no contradictions: "Stop this research. Only arChive could immortalize something so unique. These guys will exceed every one of your expectations, guaranteed".
Needless to say the photos are unreal (extraordinary), a real fairy tale, as contradictory as this may sound. The feeling of the whole day was imprinted in every single image. We were at loss of words when the presentation was over. Bearing in mind that the wedding was not a traditional Greek Orthodox wedding, but bore a number of peculiarities, which George and Angela had never previously witnessed, to say that the result was EXCELLENT is only very little.
We spent five unforgettable days, with two marvelous people, with whom we fit perfectly, and the result was such, that even when years have gone by, it will always wander us back tour own personal and unique  fairy tale. In a little castle somewhere in Scotland."
Luke & Marilena,  Serifos
"It was a crazy crazy wedding, a two day party  filled with sensations, with the background of our beloved Island Serifos. George and Angela, we shall never forget your eagerness and smiles throughout the weekend. From our very first meeting until the last click you never stopped surprising us with your professionalism and your ideas. A great thank you for the amazing images.
You by all means recorded the best moments. We are still trying to chose our most favorite ones, but this is such a hard task, as each one hides yet something different."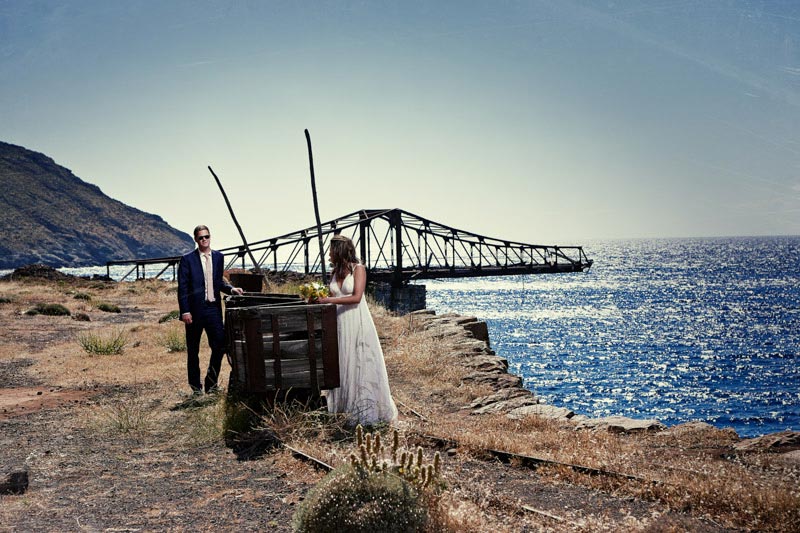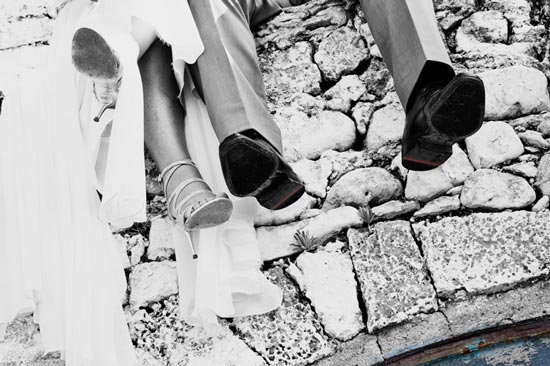 Tom & Line, Norway
" We got married in Kardamili August 2013 and we were so lucky to find two great photographers in George and Angela that followed us throughout the day taking pictures from the start to the beginning in all possible angles.
They followed quickly up on our requests and suggested supplements that made the experience even better. There were no problems with payment from Norway to Greece and everything that was promised worked out in the best possible way. We ordered an album with the best pictures from the day and got the whole wedding story beautifully documented. Pictures were creatively set together and the editing of the pictures was superbly done. All other pictures from the day was delivered on a stick with the album.
We have the best memories from our wedding day and can highly recommend George and Angela from archive Photography to anyone interested in having their best pictures taken. January 2, 2014, Best regards Tom and Line "
Thanos & Kalliopi, Athens
"We are both against marriage. This is how we match. Naturally we are against anything posed. When the time came for a click, Angela and George's proposition found us  somewhat ready. The most natural thing for the photo shooting of a wedding is to photo shoot it. Naturally." Where would you go for a walk if you did not have to get married? Lavrio mmm… that's where the photo shoot will take place. It's such happiness to be driven there where you wish to go.
So the concept was an industrial enviroment, the beach, two seagulls that constantly flew above our heads. And then there was our home, small unpredictable moments from our preparation and all that took place. Like a photo reportage. For news that are still of top interest. At least for us."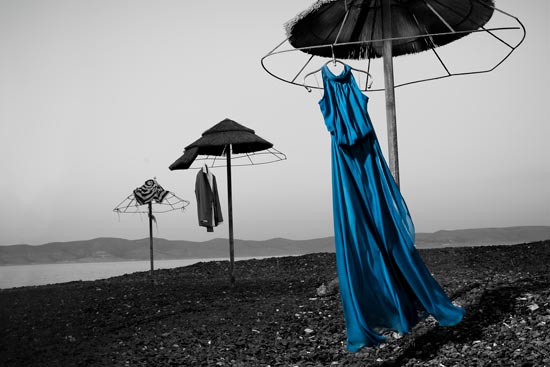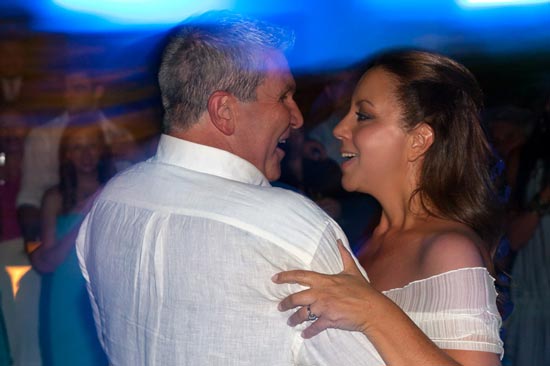 Manos & Dafnae, Sounio
"We were lucky to have our wedding captured on July 2012 by George Hatzakos and Angela Varveri of arChive.
We hold the best memories, from the discretion to the calmness, the professionalism and naturally the perfect artistic result of our images."