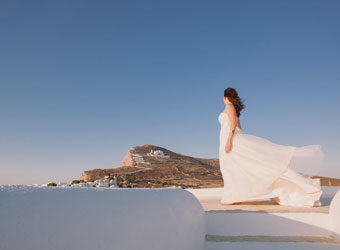 Wedding photography Folegandros
// Wedding in the bright white of Folegandros 
Folegandros is a very special kind of island, that demands and welcomes a special breed of people, like hose who long for the summer burn of the sun on their salty faces.
We were not  surprised to find out  that In 2005 an article appeared in Conde Naste Traveler which called Folegandros 'Greece's most beautiful undiscovered island' or something quite close to that but this might well be an understatement.
Getting there is not as easy as for the other mainstream Greek islands,
but the reward awaits you for getting in the trouble.
In the off-season periods there are only two or three ferry boats a week. There are many more during the peak season of summer, but ufortunately  no one is certain  until the summer actually arrives, which makes booking hotels a little difficult. But you can estimate that even  if there is no daily boat,  there will definitely be one 5 days a week.
// Wedding Photography Folegandros
During our Folegandros wedding we attended a pre- wedding party in Agios Nikolaos beach. Depending on the month you visit it can feel a little like a castaway beach and the hippy vibe is welcoming an interesting mixture of people.!There is a small restaurant on the beach with delicious meze (Greek for delicacies) you will absolutely enjoy.
We visited the Panagia church not only for the wedding ceremony but also for an after day session  that we really loved. And we have to comment on the wedding party in the three squares of Chora whose vibes is still remembered
as it spread through the whole island to celebrate the newlyweds  until the daybreak.
If you are thinking to get married in Folegandros get in touch with us. We will be more than happy to be your wedding photographers in Folegandros and document each moment for you. A good story always deserves the appropriate storyteller! And we will be by your side. For wedding photography and cinematography that will always remind you your happy days on the island.
And since you are in the vicinity just leaving a word, to end this text: Kimolos :-)
// Planning your wedding in Folegandros
If you are considering to plan your wedding in Folegandros, then you have to take care of several practical  issues that may arise; like where can i store the flowers before my wedding;  but then again this is Greece, hospitality is a priority and everybody will be willing to help you out.
Chora is the main town of Folegandros and one of the oldest traditional medieval towns in the Cyclades; the buildings stand close to one another creating the external wall of the castle (kastro). The Chora, closed to car and motorcycle traffic, has a unique centre of three squares in a row, with trees under which you can have a wedding reception you will never forget. Please arrange for enough tsipouro to treat passing by locals and tourists!
The beautiful church of Panagia is the most famous church of Folegandros. It is located on a fabulous spot above Chora offering excellent view to the island and the sea. A stone zigzag path starts from Pounda Square Chora and goes up to the church in about a 15 min walk. As a bride or a groom you have to wear appropriate shoes and have a minimum of stamina. Or just take your time! This is one of the most special churches in the Aegean as the architecture of the church is traditional Cycladic and the exterior is whitewashed. This is a one-aisle basilica with many domes and a tall bell-tower. The interior has fine frescoes, a marble throne for the archbishop and a marble icon screen. In the past, the church was the katholikon of a female monastery.