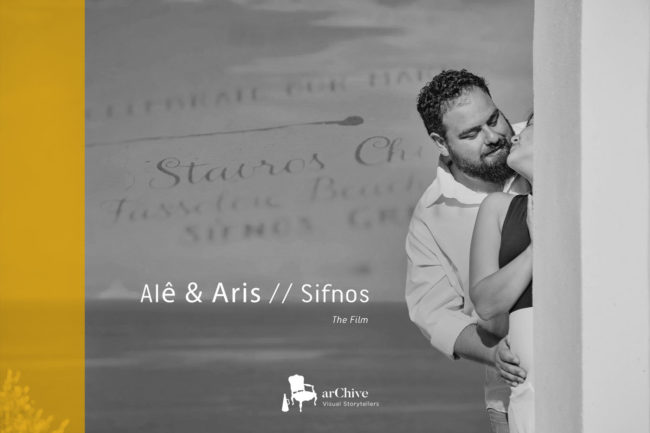 Wedding Film Greece Sifnos
arChive Visual Storytellers in Sifnos

The Wedding film of Alê & Aris' wedding in Sifnos. A three day joyful party that brought Brazilians and Greeks together in this corner of the Aegean. Enjoy!
The Scenery
This has been the perfect scenery for the perfect wedding. Sifnos, the choice of Ari and Alê, the island that combined the exclusivity of the selected few, for a traditional Greek touch to their special day. The romantic and raw ambience of the island and its hospitable aura create the ideal backdrop for this beautiful wedding. 
Pre wedding stories
 They had an amazing party the night before at the Folie in Kamares, the absolute every day must. The capricious weather of the day, chose to give us the most amazing sunset. Later in the evening and as the party was building up, spectacular thunders were crisscrossing the horizon, as if to collaborate to the celebration of the day to come. And there was drinking and dancing. Brazil and Greece, different, yet so similar in their impulsive expression of joy.
The wedding day in Sifnos
Their preps took place at the Light House Residences, with friends and families. We have a soft spot for preparations. highly emotional, elaborately mixed, with tears of joy, loved ones always collaborating to the build up of impatience as the clock ticks closer to the countdown.
Ari, the most beautiful eyes we have ever seen. Blue, but more. Where almost nothing need be said. Alê, the most amazing smile, so genuinely sweet, with just the right portion of shyness and warmth. As Ari kept saying, "everything about her is beautiful".
 Their choice for the religious wedding ceremony was  bold and unique, as most couples choose Chrissopigi for their wedding. A small country church, the monastery of  Timios Stavros, overlooking the sea. A breathtaking view and a magic sunset, their most becoming enviroment. Where love knew, it was called love. For this day and forever.
The party in Fassolou, went on until early morning hours, the Greek – Brazilian way, a fascinating combination on the dance floor. We were there to share this day with them and hand them back their trust. A gift to safe keep and share. Images that speak to their hearts.
For Ari and Alê, and for everything we shared during your happy days in Sifnos, the island that became the ideal backdrop for your beautiful wedding. Thank you for trusting us both as professionals but also as friends. For the most graceful, heartfelt and  honest smiles.
We were there to share this day with you and hand you back your trust.  Images that will speak to your hearts.
Muito obrigada

Images form the Heart
for those meant to be…
If you like what you see, visit our portfolio and contact us to book your wedding photography and/or cinematography.
We are available Worldwide