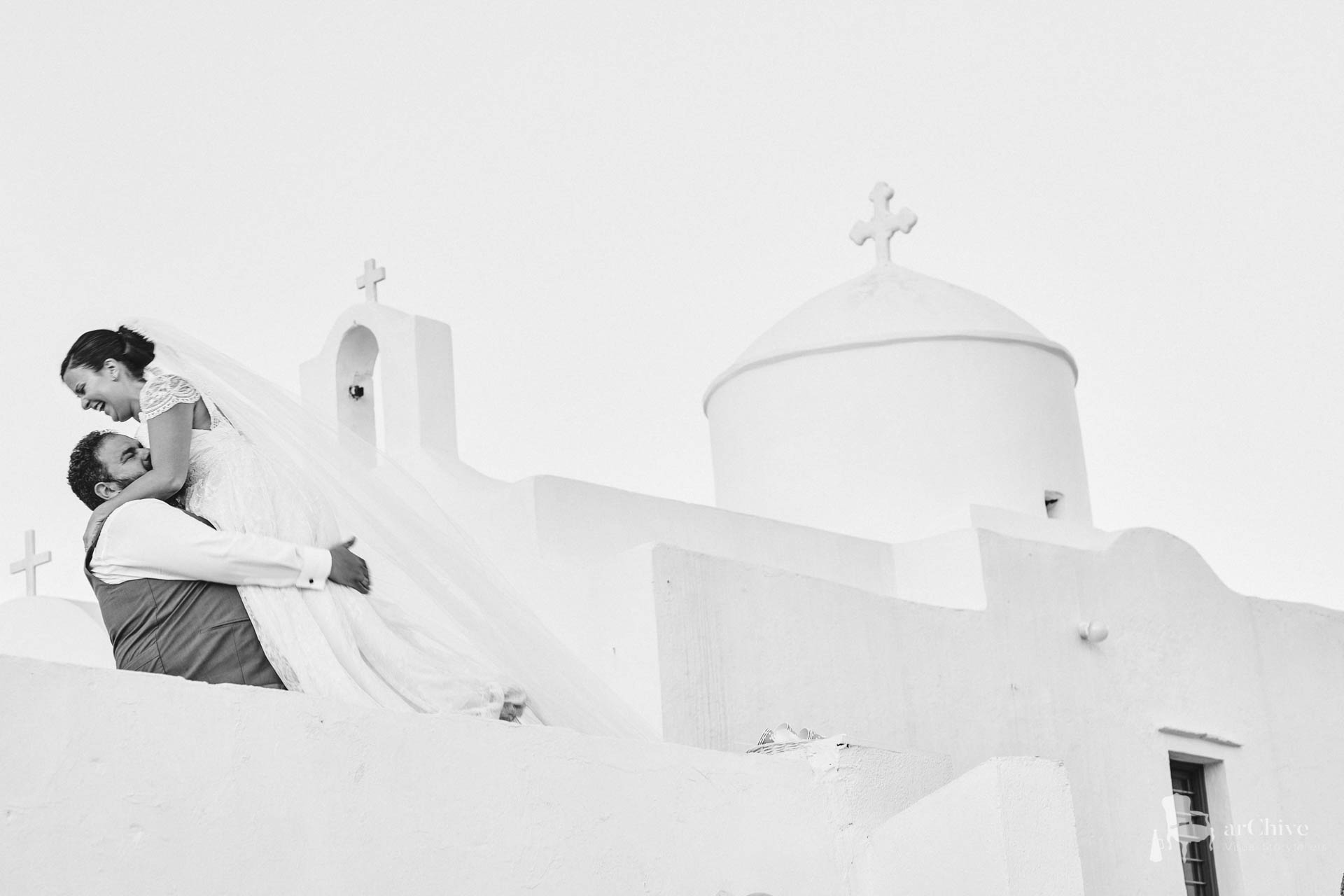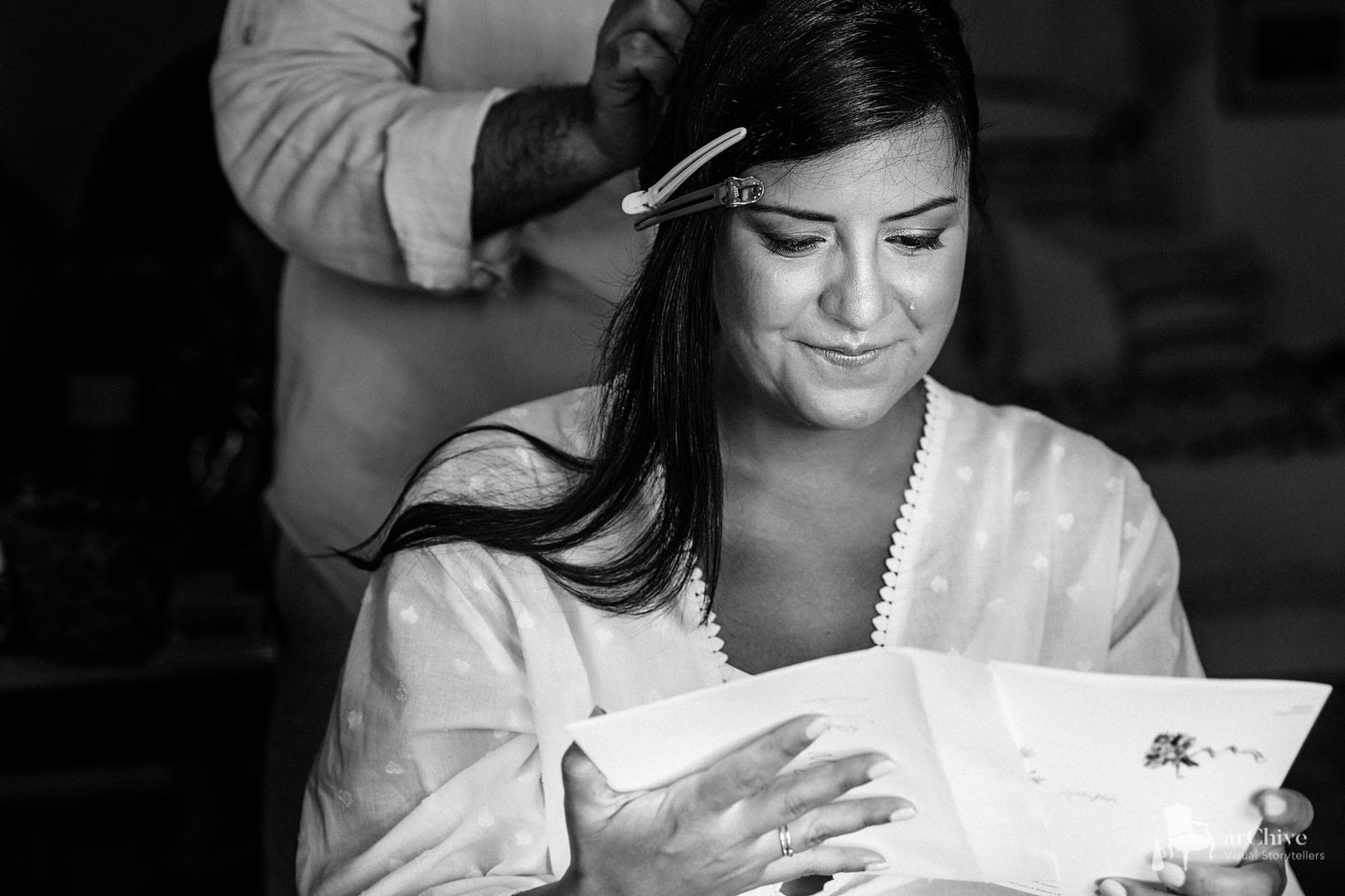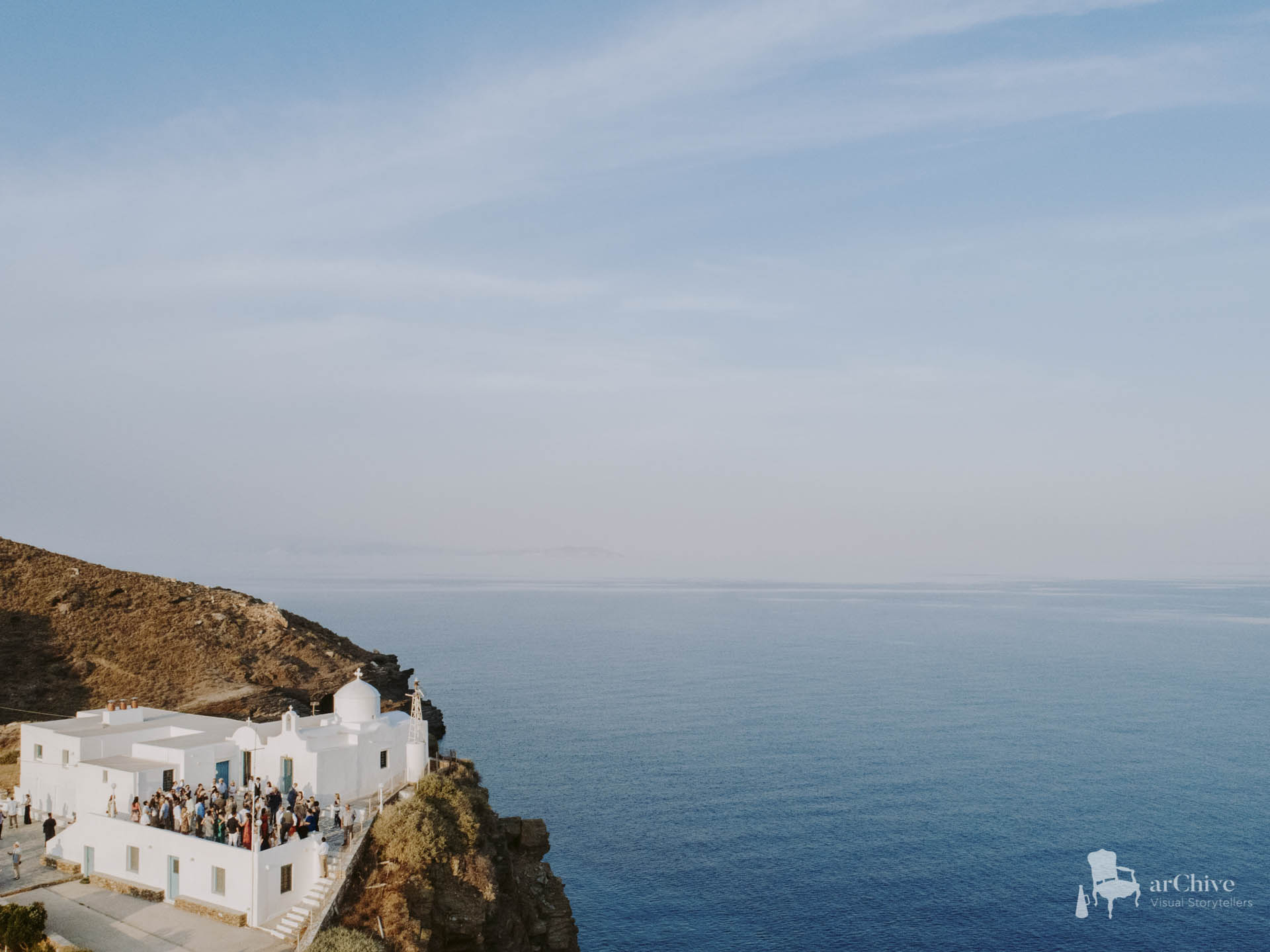 Alê, the most amazing smile, so genuinely sweet, with just the right portion of shyness and warmth. As Ari kept saying, "everything about her is beautiful".
The Scenery
This has been the perfect scenery for the perfect wedding. Sifnos, the choice of Ari and Alê, the island that combines the exclusivity for the selected few, and a traditional Greek twist to an exceptional day. The romantic and raw ambience of the island and its warm aura create the ideal backdrop for a beautiful wedding.
Pre wedding stories
Alê & Ari, had an unforgettable prewedding party the night before the wedding at the Folie in Kamares, the absolute must all-day bar. The capricious weather of the day decided to give us the most amazing sunset colours. Later in the evening, as the party was building up, spectacular thunders crisscrossed the horizon, contributing to the celebration of the day to come. And there was drinking and dancing. And there was happiness and joy. Brazil and Greece, different, yet so similar in their impulsive expression of joy. 
"Clouds come floating into my life, no longer to carry rain or usher storm, but to add colour to my sunset sky."

― Rabindranath Tagore 
We love parties, and we love images that speak of who you are.
Images of truth and purpose.
Of connection and trust.
Of you.
The wedding day in Sifnos
Their preps took place at the Light House Residences, with friends and families. We have a soft spot for preparations. highly emotional, elaborately mixed, with tears of joy, loved ones always willing to the build up of impatience as the clock ticks closer to the countdown.
Ari, the most beautiful eyes we have ever seen. Blue, but more. Where almost nothing need be said. 
Alê, has a most amazing smile, so genuinely warm, with just the right portion of shyness. As Ari likes to say "everything about her is beautiful".
 Their choice for the religious wedding ceremony was bold and unique, as most couples choose Chrissopigi for their wedding. Their selection is a tiny country church, the monastery of Timios Stavros, overlooking the sea. A breathtaking view and a magical sunset. This is precisely where love knows, it is called love. For this day and ever after.
The party, held in Fassolou, went on until the early morning hours. In the Greek – Brazilian way, such a fascinating combination on the dance floor. We were there to share this day with them, to photograph and safe keep their memories. Images that speak to their heart.
For Alê & Ari, and for every moment we shared during their happy days in Sifnos, the island that became the ideal backdrop for a beautiful wedding.
We thank them for trusting us, both as professionals but also as friends. For the most graceful, heartfelt and honest smiles.
For us, as destination wedding photographers, having captured stories we connect to, is our premium reward. We take pride when our photographs speak about your path in time. 
We like our images to have a voice. If you like our approach, let us talk about your adventures. 
Muito obrigada :-)

To quote LooksLikeFilm // Being a creative takes equal parts vulnerability and guts. We know this. Often it's about letting go, trusting the process, while at the same time never giving an inch when it comes to realizing your vision. We started this journey because we've got something to say and somewhere to go. 
 See more of our destination wedding videos at  www.rchive.gr and get in touch for your event at info@rchive.gr. We are available Worldwide.